Top 5 Best Things To Do In Siargao Island, Philippines
You've seen the pictures. You've read about white sand beaches, turquoise waters, and palm trees. You have dreamt of visiting this tiny island called Siargao, but where is this slice of paradise? And what is there to do once you get there? We get asked these questions a lot so we have put together this handy guide to the top 5 things to do in Siargao Island Philippines.
This article is written by Do You Travel, Tour operator specialising in creating once in a lifetime Philippines Group Tours and holidays!
Now Let's talk about everything BUT surfing
Siargao, popularly known as the "Surfing Capital of the Philippines", has so much more to offer than just surfing. To make my point, I am not even going to mention surfing again! This slice of paradise with its white sandy beaches and relaxed island vibe is so addictive and will leave you wondering if you can buy a piece of land, work an online job and live like this for the rest of your life. FYI you technically can't, in general, only Filipino citizens can purchase land in the Philippines, but there are always loopholes, and we can dream.
As much as Siargao is one of the Philippines ' best-kept secrets, it's part of many of our awesome Philippines itineraries and we are here to share some of our secrets, and let you in on the top 5 things to do in Siargao.
But first, where is Siargao and how do you get there?
Siargao is situated in the southern part of the Philippines, the Mindanao region, and yes it is safe for foreign tourists. It is around 800km from the countries capital Manila in the province of Surigao del Norte.
A 40-minute plane ride will see you from Cebu or Manila to Siargao for around 3000 Philippine pesos ($85AUD), and is worth every penny even if it's just for the window seat view. Alternatively, you can take the ferry from Cebu via Surigao, a much longer but cheaper option at around 600 pesos ($16AUD).
Most travelers stay in General Luna; this lively beach town has a good variety of resorts, restaurants, and nightlife all within walking distance, and for that reason alone it already featured many times in our 'Ultimate guide to food in the Philippines' and 'best places for nightlife in the Philippines'
Siargao has a lot of natural attractions and beautiful scenery; Aside from surfing it has perfect white beaches, enchanting lagoons, caves, sand bars, bizarre rock formations, exotic wildlife, endless rice fields, one of the largest mangrove forest reserves in the country, and heaps of man-made fun like sunset cocktails and yoga.
Main Areas of Siargao (for first timers)
General Luna is the main town on the island. There you'll find most of the accommodation, restaurants, tour companies, shops, etc.
The famous surfing area known as Cloud 9 is a short drive north from General Luna. If you want to take a surf lesson or laze on the beach, this is a good place to be. You'll find many guesthouses, shops, and restaurants in this area.
The quiet beach town of Pacifico is about an hour north of General Luna. With only a few eateries, a handful of guesthouses, and long stretches of still undeveloped beach, it's the perfect place to get away from the craziness of General Luna and Cloud 9 and just sit back and relax.
#1 Island Hopping in Siargao
This has to be one of the 'must-do' things to do in Siargao. Naked, Daku and Guyam Island, are all within a 10-minute boat ride of General Luna and offer the ultimate opportunity to soak up the sun and beauty that Siargao has to offer. There are opportunities to book this popular day trip pretty much everywhere on the main island with operators like 'Siargao Island Getaway' who take us out to the Islands on Day 14 of our 16 Day Group Tour! If not traveling with us, you can expect to pay around 1,500 ($43) pesos per person including lunch.
Naked Island – Often the first stop and we'd be lying if we said categorically there were no naked people.. It's not just the whiteness of the sand that you may be blinded by! The island got its name because of its 'nakedness'; there's no shade or almost anything on the island. It's only a few minutes away by boat from General Luna and provides a great stop to get those all-important photos for the gram, clothing-optional.
Daku Island – The most popular stop for lunch being the largest island, Daku Island is regarded as having one of the finest beaches in the Philippines and has its own community of around 300 residents! Fresh seafood is sourced by the locals and served along the beach in the various huts by the water. This stunning place with powdery white sand is the perfect place to kick back and relax while someone else prepares lunch.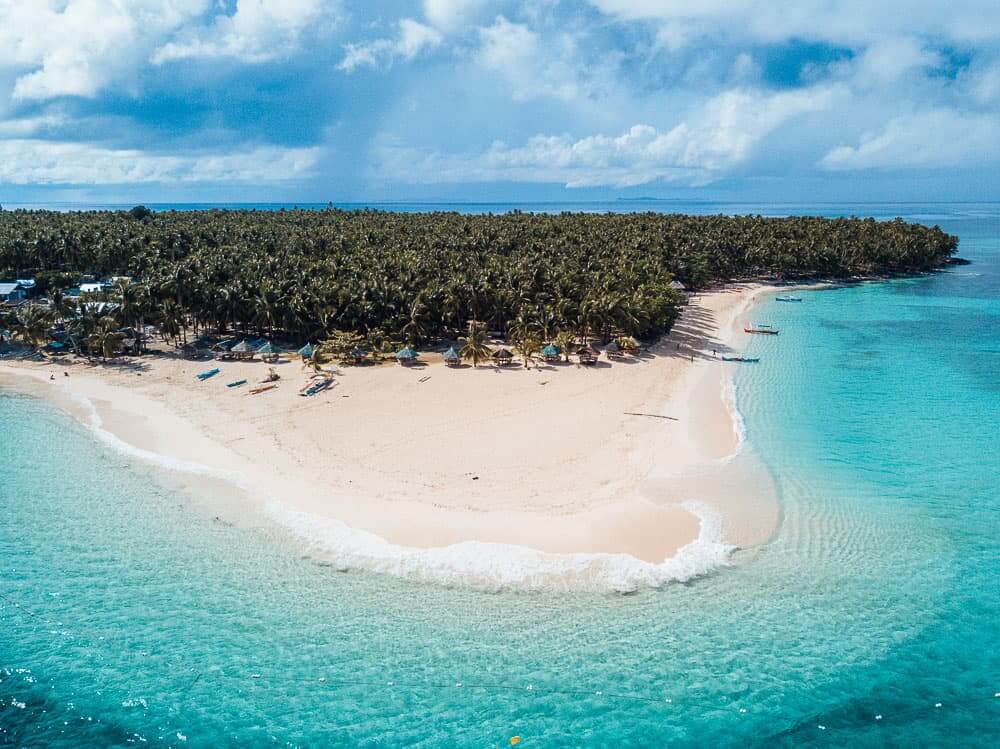 Guyam island – Often the last stop on an island hopping tour. The island is uninhabited and surrounded by water that'll rival the Maldives at a fraction of the cost. This final spot is perfect for watching the sun go down with a cold beer. How could you miss the perfect sunset on such a small circular island?
#2 Sugba Lagoon
Sugba Lagoon, most recognisable by its diving board (which doesn't look so scary until you're stood on the end of it), is about a 30-minute drive from General Luna then a 30-45 minute boat ride. On the way to the lagoon you will pass an expanse of mangroves, dotted with small villages, the views are absolutely extraordinary.
Once you reach the lagoon, you can swim in the crystal clear waters, use a stand-up paddle, or just go snorkeling. You can easily book this day trip in town with 'My Siargao Guide' or any company based at the large resorts like Bravo Beach Resort or Kermit Resort for example. Expect to pay around 1500-2000 ($42-$57) pesos per person including lunch.
#3 Bucas Grande & Sohoton Caves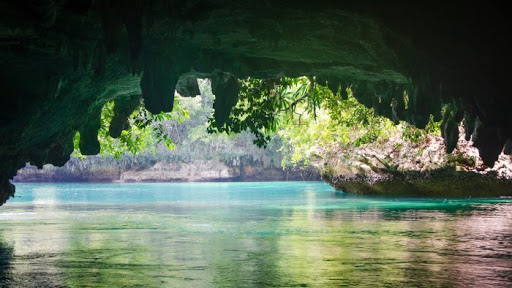 Another popular day trip is to Bucas Grande to see the Sohoton Caves which are ranked as the #1 attraction in Siargao on Tripadvisor. Popularly named the El Nido of the south, this gem is best explored by adding it onto an island hopping tour as it is much farther away than you might think. This popular day trip can be found on Klook for about $70 including lunch which is pretty reasonable considering it is a 1.5-hour journey to get there. Once there you can rent a kayak and explore the marine reserve and the natural cave tunnel spotting bats, stingless jellyfish, stalactites, and wild orchids.
#4 Magpupungko Rock Pools
Magpupunkgo rock pools are guaranteed to blow you away. These bizarre rock formations create their own infinity pools that are separated by a large reef and the ocean. It takes around 30 minutes by car to reach Pilar where the rock pools are and the best time to visit is at low tide as the area is completely submerged during high tide.
This is an awesome spot for exploring and cliff jumping or just spending the day relaxing on the beach there. There are a number of shops and restaurants so you won't be without supplies. Magpupungko rock pools like many of the activities on the island can be booked as a day trip, often alongside the infamous coconut road, and rope swing into the Maasin River. It may be best booked as a day trip, that way your guide is responsible for checking the tides, but be warned it can mean an early start, 5:30 am. Ouch!

#5 Eat – Sample the freshest seafood
Siargao is a foodie heaven, almost every resort, and restaurant in General Luna offers a different kind of fish and seafood. This perfect opportunity to try some local specialties that you won't find this fresh anywhere else has to be one of the top things to do in Siargao.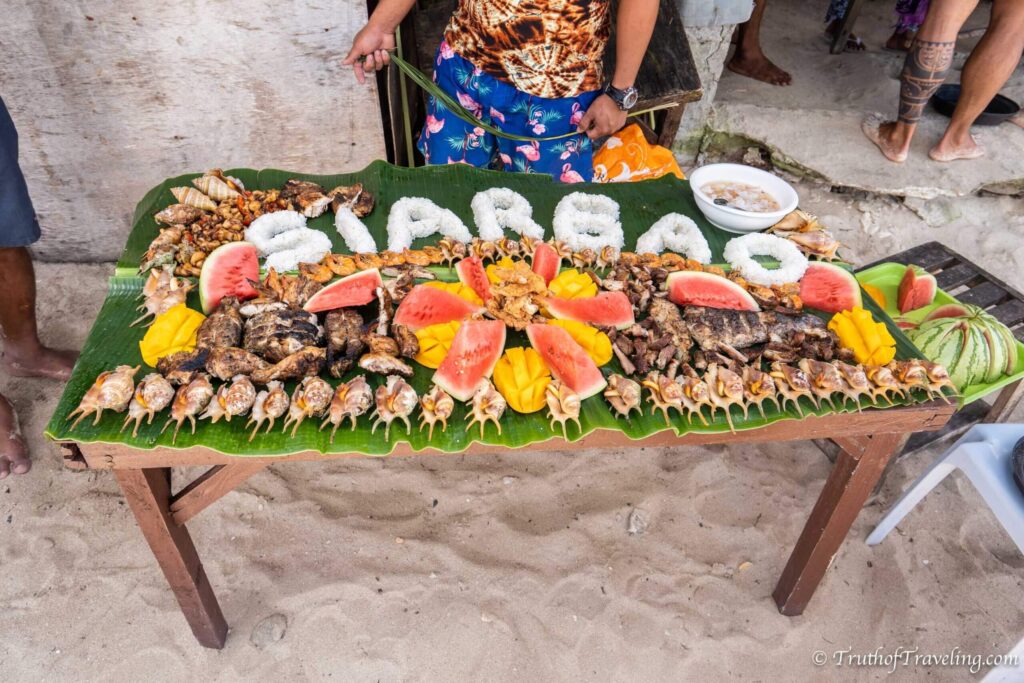 If you fancy keeping it local, Mamas Grill offers a variety of fresh catch cooked the traditional Filipino way (BBQ'd) right in front of you. If you're not quite ready to be fully immersed in local culture and island life check out our Ultimate guide to food in the Philippines, Siargao has everything from amazing cafe breakfasts, smoothie bowls, and shakes to some pretty awesome pizzerias.
If you're on a budget, and staying in self-catering accommodation you can go to the public market in General Luna and buy fish or seafood. The best time to go is in the morning when everything is fresh. Tuna costs around PHP120-150 per kilo ($3-$6) and they also have tons of fresh fruit and veg to accompany it. A fantastic opportunity to experience what Siargao really is about while supporting small local businesses.
So, when are you coming to Siargao?
As if we haven't already sold it enough we'll leave you with this – Siargao is so much more than the surfing capital of the Philippines. If you fancy a serene paradise beach that looks like a postcard at a fraction of the cost of the Maldives, Siargao is for you. The beaches are breathtaking; no rubbish, no noise, few tourists, and perfect white sand alongside turquoise waters and palm trees.
We have some pretty high expectations when it comes to beaches, have you seen our Instagram? But Siargao will not disappoint, the best times to visit are between November and May, we only run our awesome Philippines trips during these months to ensure the best weather.
So, whether you're reading this looking for things to do in Siargao or planning that long-awaited post-pandemic trip, don't forget we can customise any of our itineraries just for you. Whether it's an adventure add-on to your solo trip or you fancy joining one of our epic 10 or 16-day group tours, our travel experience planners are only a click away and ready for you to fall in love with Siargao as much as we have!
Want to read more content like this?
Sign up to receive our free Philippines Travel Guides and tour updates to get a local insight into this amazing destination before you visit!