Your ultimate guide to a great night out in the Philippines – Updated 2020
So we all know The Philippines is famous for its white sandy beaches, crystal blue waters and amazing adventure activities, but what about the nightlife in the Philippines?
The Philippines is not particularly famous around the world for its nightlife, but that doesn't mean that there isn't some pretty amazing nightlife in the Philippines. To the contrary, Filipino's love themselves some night time entertainment, which usually involves live music, a hardcore karaoke session and far too many rounds of Rum or beer!
Whatever your after dark style is, you are up for an epic time in the Philippines. The team at Do You Travel knows everything there is to know about having a good night out in The Philippines, so you are in good hands!

So without further ado, here is our ultimate guide to nightlife in the Philippines, stay safe, drink responsibly, and enjoy!
Manila
Where most trips to the Philippines begin, the capital of the Philippines is fast-paced, energetic, and far from boring. There are 2 main districts in Manila that are well known for nightlife:
BGC – An upscale modern development in the heart of Manila, BGC is widely known for its vibrant nightlife, attracting young professional party goers and expats to dance the night away. Here you will find the more classy type bars and restaurants, you don't need to suit up, but please wear a shirt (this is not your singlet and flip flops type of place).


Our Top Picks for nightlife in BGC:

A great place to start off your evening in BGC and get your first taste of Filipino cuisine. The Tipsy Pig is a fusion restaurant where you can enjoy signature brews, an extensive drink selection, pica pica (snacks) and a long list of main dishes such as Kare kare, Sisig Tacos, Boneless Crispy Pata, Beer Can Chicken and if that all sounds too exotic the burgers and steak are marsarap (delicious) too. Make sure to try their famous salted caramel beer!

If you love beer, this one's for you. This open air pub has 25 beers on tap, most imported from all over Europe and England. Although, you'll be able to try some of the local beers here too.
Neon lights, upbeat music, party drinks and of course electronic dart boards, iDarts – The Philippines first electronic darts bar, is definitely something unique to do in BGC. First timers are highly encouraged as they even have in-house instructors that are ready to assist and teach you the basics. They have a pretty impressive food menu as well such as, Wagyu Beef Sliders, Umami Chicken Tenders, Truffle Fries, Nachos and Pizza which you can pair with their drool-worthy drinks from signature and classic cocktails to your favourite shooters, local and imported beers, and wines.

If you want to feel like a real VIP and go all out classy for the night, Revel is the place to be. Considered one of the hottest party venues in Manila, it has daybeds, cabanas, a huge pool and, of course, DJ's. The crowd here is a bit more mature and it houses some of the best Dj's in Manila spinning house and dance music til the sun comes up.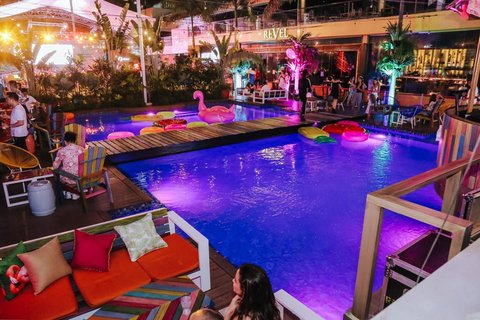 Makati – Less classy than BGC, but a lot more of an authentic Philippines nightlife experience. Makati is a party goers dream where you'll find a wide variety of places to get your drink on. From super clubs to sports bars to midget boxing and lady bars, Makati city is anything but tame! We recommend starting off the night at Z Hostel's Rooftop bar to watch the sunset and take in the views of the city by night before braving the streets of Makati for a night you will most likely forget..
Our Top Picks for nightlife in Makati

Z Hostel – We may be a bit biased with this one as we start our 10 and 16 day tours here, but there's a reason we love this place! The great thing about this hostel is that it has its own rooftop bar with a perfect view of the Manila skyline. Head up stairs, grab a drink and make new friends while taking in the awesome city sunset. You don't have to be staying here to enjoy the rooftop bar either , just pay 70 pesos for an RFID bracelet and load it with a minimum of 300 pesos credit (around $10 AUD) and you're good to go.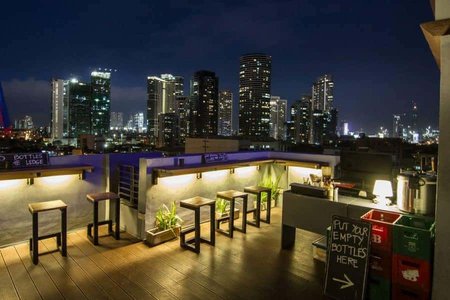 Pura Vida – Right next door to Z Hostel on the second floor, you'll find Pura Vida, a great spot to fill your stomach before you get too many drinks in. The menu is based around authentic Costa Rican cuisine with top notch ingredients and many well-prepared, amazing options. The prices are decent enough for budget travellers too. The bar has an alfresco area, which is great for socialising and having a beer or cocktail while making new friends.
Walk Down Burgos Street – Makati's Old Red Light District – If you're looking for all-night entertainment in one spot, Burgos Street is the place to be. Formally Makati's Red Light District, most of the bars and clubs are open almost 24 hours a day. You'll find everything here from restaurants and sports bars to more interesting places like the Midget Boxing – Ringside Bar.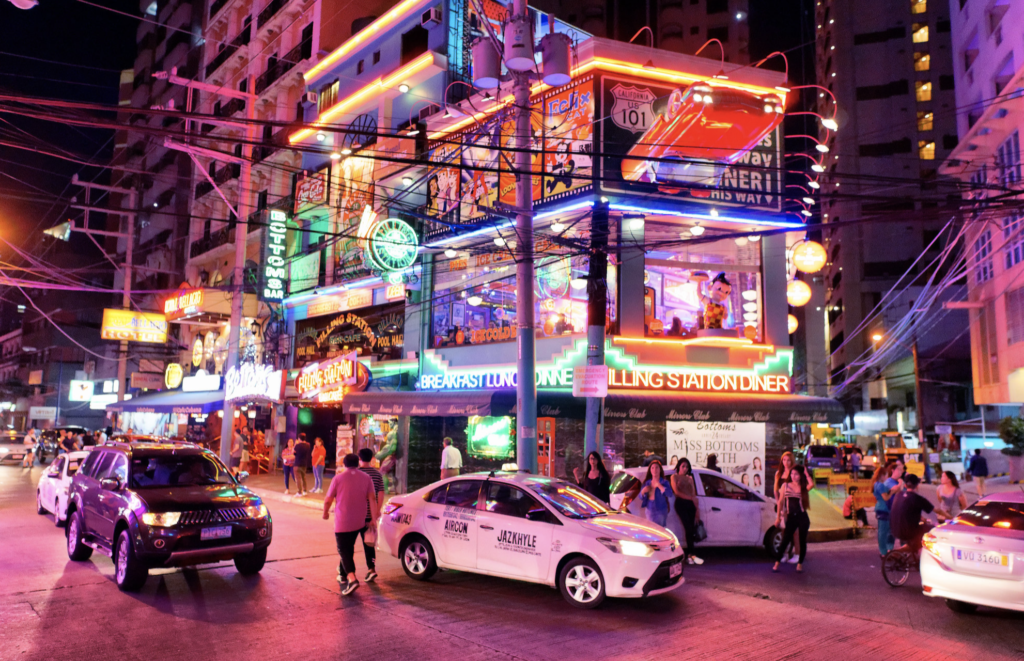 Head to a Karaoke Bar – If you don't know it already, you will very quickly learn that Filipinos love to sing. Whether it's in the shower, in the line at the groceries, in the office, or while on the road, Filipinos are always ready to belt out a tune and are famous for their musical skills all around Asia. So it should come as no surprise that karaoke bars, or KTVs as they're locally known, are extremely popular places to hang out in the Philippines and grab a few drinks.
Siargao
Siargao Island is a paradise for many reasons, but especially for those who love nightlife. The most typical thing to do in Siargao (after the island hopping and land tours) is surf all day, party all night, and wake up the next day and do it all over again. Siargao nightlife is unique and so much fun because the bars in town get together and share the nights of the week to hold the big parties, so it means that as long as you go where the party is that night (don't worry, its well advertised and pretty much everyone knows) you can be sure that it's going be to jam packed with fellow travellers as well as the local party goers. This also works if you want to avoid the crowds and have a chill night at a quieter venue. Siargao island is one of our favourite places for nightlife in the Philippines.
Our Top Picks for nightlife in Siargao:

White Banana Beach Club – One of our favourite spots to take guests on tour and the perfect spot for lazy afternoon sunset sessions. The White Banana Beach Club doubles as a hotel / hostel and has a simple yet contemporary set up with a bar, food menu and small tables, chairs and bean bags on the beach. Every few nights they feature a live band or singer, and did I mention the sunset views?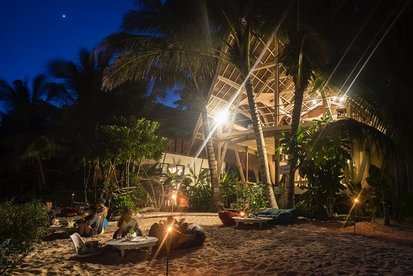 Bravo – Another beachfront venue which doubles as a resort, restaurant and bar. With a beautiful beachfront swimming pool, vibrant and lively atmosphere and comfy chairs & lounging areas, you wouldn't be judged for letting an entire day pass at Bravo. Not the cheapest place in Siargao, but good value for what you get. Head here on a Sunday night if you want the atmosphere and to enjoy a few drinks – not super busy but enough of a buzz to relax and maybe make some new friends
Mama's Grill – Ok so this ones not exactly a "nightlife venue" we still think it deserves a mention. If you are yet to try an authentic Filipino BBQ, or have and enjoyed it, I urge you to add Mama's Grill to your list. Probably the best Filipino BBQ I have tasted in the Philippines, you can fill yourself up on pork chops, tuna fillets, chicken legs or breasts, local sausages, veggie sticks all grilled with either sweet or spicy sauce and eaten over a plate of rice and washed down with ice cold Sam Miguel beers. This place is always really busy so best to go before 6pm if you don't want to wait forever for a table.
El Nido
The nightlife in El Nido is much more laid back than in places like Siargao and Manila, but there are plenty of great choices of restaurants and beach bars to keep you entertained after sunset. Happy hour usually begins around 4pm and ends around 7pm, allowing you to enjoy San Miguel, the most consumed beer in El Nido, for about 40 pesos (about $1 AUD). El Nido's chilled atmosphere is perfect for socialising and meeting with other travellers, or simply relaxing after a busy day of exploring the islands.
We recommend starting the evening off at OutPost Hostel for lazy sunset sessions and then heading to SAVA Beach Bar for cocktails and Pukka Bar to dance the night away on the beach.

Our Top Picks for nightlife in El Nido:
Outpost Hostel – On Corong-Corong beach, locally known as Sunset Beach, about a 10-minute bike ride from El Nido town, you'll find a super fun and sociable atmosphere and some of the most gorgeous sunsets you'll ever see. Pre-game and socialise with travellers from all over the world at the on-site bar and marvel at the breathtaking El Nido sunset.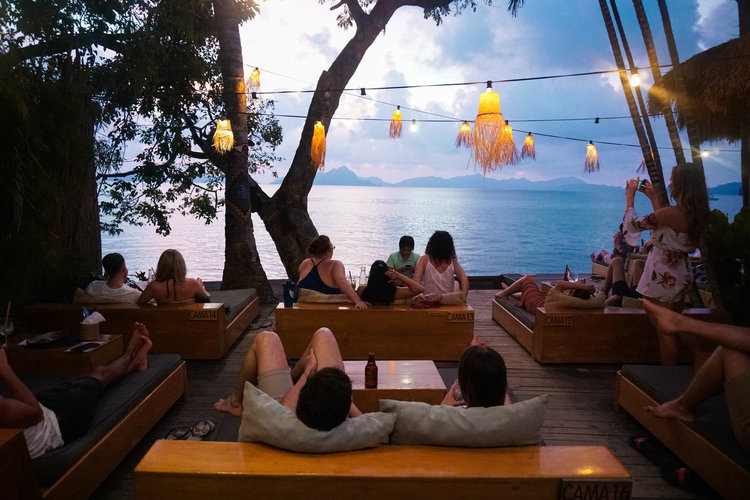 SAVA Beach Bar – If you're in the mood for cocktails on the beach, SAVA Beach bar is the place you need to be. A contemporary cocktail bar which makes the best cocktails in El Nido and some of the best food in town. We recommend the chimichanga or baked mussels. Top DJs set the beachfront dance floor on fire as the evening wears on.
Pukka Bar – A well known reggae beach bar that's famous on the island, featuring a live band each evening at 8pm. Pukka Bar starts off quiet in the early evening, as most people end up on its dancefloor after bar hopping the other bars in El Nido town. It has a good sized dancefloor with a DJ, outside decking area leading to the beach with tables and chairs for those that want to chill, chat and listen to the music.
Boracay
Before we get into the nightlife in Boracay it's important to explain the setup of Boracay's 3.5 kilometer-stretch of Beach. White Beach, which is the main beach in Boracay is divided into 3 sections, Stations 1, 2 & 3
Station 1 – Station 1 has the best and finest stretch of white sand in the entire island, and also where most luxury resorts are found. It is also a quieter area compared to Station 2.
Station 2 – A convenient, busy area with lots of people and where you can find 'D'mall', an assortment of shops and restaurants.
Station 3 – A less crowded area compared to Station 2 and where you can find cheaper hotels and resorts.
Boracay was once considered the party capital of the Philippines and was the most popular island for nightlife in the Philippines, until in 2018 when the Island underwent a major rehabilitation program, closing its doors to tourists so that it could be cleaned up and transformed into a much more sophisticated and sustainable tourism destination. This is not to say that Boracay doesn't still have some pretty awesome places to enjoy at night. The main difference is that parties and dining are no longer allowed on the beach and are confined to inside bars and hotels.
Our Top Picks for nightlife in Boracay:
Sandbar Beach Club at Discovery Shores (Station 1) – Sand Bar is the ideal setting to enjoy the magnificent Boracay sunset. Settle in on a chic beach lounge chair, or take a spot by the bar as you sip on the drink of your choice. Chill out on cosy bean bag seats and watch the magnificent Boracay sunset with a mojito in hand. Stick around for a candlelight beach dinner with a captivating show with fire-dancers.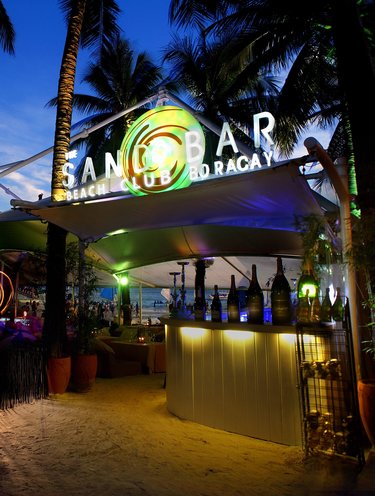 Exit Bar (Station 2) – The best thing about Exit bar is the magical beach vibe. Located at the beach front at station 2, the drinks are crazy cheap, the bartenders are awesome and the dj's are super good. With a funky vibe and music ranging from the oldest rock tunes, dance to your favourite 90's song, Exit Bar has something for everyone. It's open all day and often has live music and DJs, so come before midnight if you want any hopes of getting a seat – it's a favourite in Boracay!
Coco Bar (Station 2) – Situated right in the heart of Station 2 directly on white beach, lives a small tiki themed quintessential beachfront bar. Play a game of jenga and darts with your new travel mates and try out one of their quirky drink concoctions, be careful not to have too many as you could very easily end up finished for the night before it's even begun.
Aqua Boracay Day Club (Bulabog beach) – Aqua is the first ever Day Club in Boracay and currently still the only one. Aqua Boracay Day Club is energetic and hosts the hottest pool parties on the island where you can party all day by the front-facing beach and sip your cocktails while listening to great music. Aqua Boracay, is a 5-star luxury resort in Bulabog beach, Boracay, which is a 5-minute walk from D'Mall on White Beach. It's not exactly cheap to spend the day here, you have to get a cabana (6-8 people) for ₱8,000, a bed (2 people) for ₱4,000, or at least a table (2-4 people) for ₱2,000, but it's all consumable for food and drinks, which makes it pretty good value for your peso.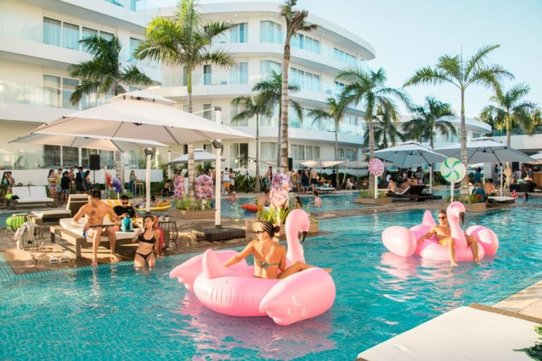 Cebu
Comparable to Manila, but still offering its own unique charm, Cebu is the 2nd largest city in the Philippines and hosts a nightlife scene almost as exciting as Manila's. From nightclubs to karaoke lounges, from live music bars to pubs, you'll have no problem finding a venue to suit your partying needs in Cebu.

Our top picks for nightlife in Cebu:
Blue Bar & Grill – Settled on the rooftop of Marco Polo Plaza Cebu Hotel, the Blue Bar & Grill gives a sweeping view of the city of Cebu. If you're planning to spend the night in peace with good food and a glass of wine, this place can be your perfect resort. Its terrace seating allows you to enjoy the beautiful sunset and it also has an indoor dine-in area.
The Distillery – The Distillery offers an extensive choice of whiskies, international beers, and other spirits that can be enjoyed in a refined yet relaxed atmosphere. The bar is usually busy, but the most popular night is probably the so-called "Too Good Fridays".
Club Icon – Club Icon offers a world-class nightclubbing experience right in the centre of Cebu City. This club attracts a mixed crowd of upper-class Filipinos, Korean tourists, and a few westerners. Despite its rather luxurious aspect, Icon remains affordable – the entrance fee is around 100 pesos. DJs change every day, yet the music here remains in the electronic dance music/trap/hip hop genres.
Mad Monkey Hostel Rooftop Bar -Another hostel with a twist, Mad Monkey Cebu is a great place to meet and mingle with locals and fellow travellers. With a full-service bar on the roof deck hosting spectacular views of the city, a beer pong table, billiards, arcade machines, an infinity pool with hammocks, and a whole lot more, it's the perfect spot for those lazy (and hot) summer afternoons. Don't forget to try their signature house drink Sinulog Slam!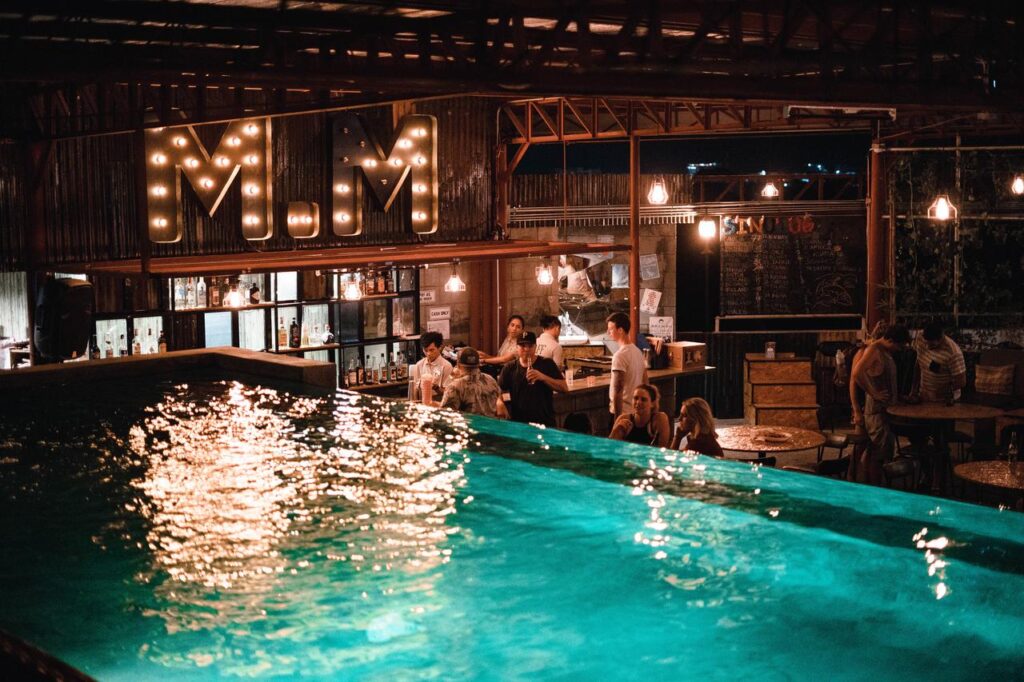 Philippines Nightlife FAQ's
How much does it cost to drink in the Philippines?
This varies greatly from place, and drinks are often more expensive in the tourist hot spots, but expect to pay between 40 pesos ($1.20 AUD) to 100 pesos ($3 AUD) for a local beer and slightly more for imported. Cocktails are pricier as expected starting at around 200 pesos ($6 AUD)

Where is the best place for nightlife in the Philippines?
Some of the most popular places to enjoy the nightlife in the Philippines are: Manila, Siargao, Cebu, Boracay and El Nido Town
Is the Philippines safe at night?
The Philippines is generally safe at night. We recommend you stick to the tourist areas, and just like any other place in the world, don't go out drinking alone if you can avoid it. If safety is a concern, we highly recommend checking out our epic Philippines group tours, with a knowledgeable guide to look out for you and a group of travel buddies to join you, you can rest assured you will be well taken care of, even if you do end up having a few too many on a night out.
Tips For Enjoying The Nightlife in the Philippines:
We have compiled some useful Philippines nightlife tips for you, to help you enjoy a night out on your Philippines holiday
Travelling on your own? Hostels are an amazing place to start your night off by meeting travellers from around the world, you won't be alone for long.
If you're looking for a great night out in the Philippines, I highly recommend befriending some locals, Filipinos are a super friendly bunch and will instantly welcome you into their circle.
Had a bit too much to drink last night? Grab yourself the ultimate Hangover cure – Buko (coconut) juice.
So there you have it, The nightlife in the Philippines is definitely an experience you shouldn't miss as part of your Philippines adventure!
If you are planning a holiday in the Philippines soon, check out the amazing Philippines Tours we have to offer! We handle all of the logistics of your Philippines holiday and take you to all the best spots, so all you have to do is pack your bags and show up!
See you in the Philippines!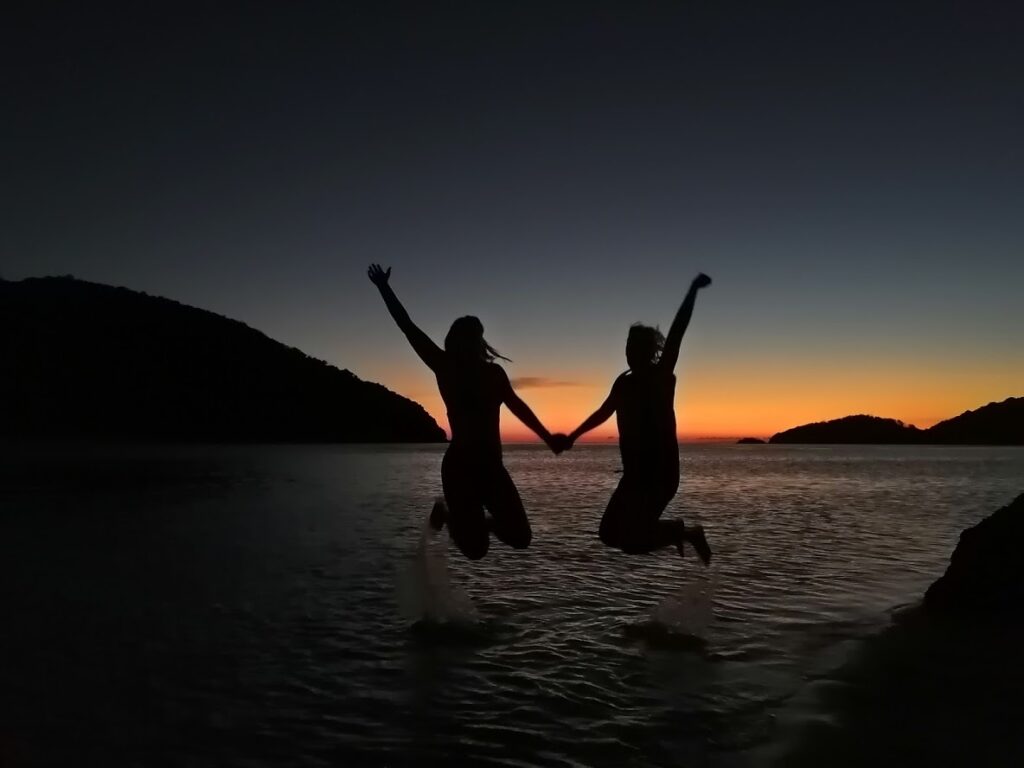 Want to read more content like this?
Sign up to receive our free Philippines Travel Guides to get a local insight into this amazing destination before you visit.