Everything you need to know about what and where to eat in the Philippines
In our latest blog we checked out The best places for nightlife in the Philippines, so what better way to follow it up with a blog all about the food in the Philippines! This article will be mostly focused on where you can eat the best traditional Filipino food in the Philippines, but we have also thrown in some of our favourite spots to get a western meal as well as some amazing vegetarian options for food in the Philippines. Take this blog as your ultimate guide to food in the Philippines and the best places to eat in the Philippines!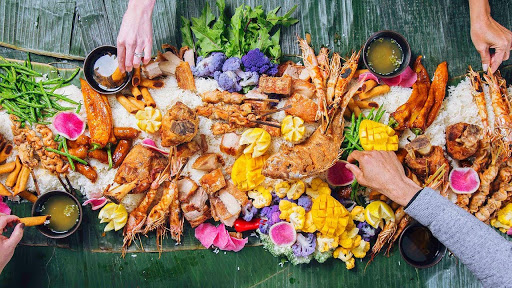 Filipino cuisine has recently been tagged as the 'next big thing' to look out for in the culinary world. Traditionally in the Philippines, a group of people sharing a banquet style food platter is called a 'boodle fight'. The feast is served on a huge banana leaf and eaten with your hands. Boodle fights originated at the Philippine Military Academy, feeding a literal army and its commanding officers. Eating together this way was a symbol of camaraderie, brotherhood and equality. When it comes to enjoying Filipino food in a restaurant you can expect to order a number of dishes suitable for sharing, unlimited rice and if you're keeping it local it's going to be arriving on a banana leaf.
Manila
Manila, The capital of the Philippines, is one of the most densely populated cities in the world. The Makati and BGC districts are popular amongst tourists and are a perfect example of what Manila represents, many cultures living together. Due to this you can expect to find a true variety of world cuisines. Both Makati and BGC offer a variety of food choices with everything being so closely packed together you can easily walk from place to place.
Our best places to eat in Makati
Barrio Fiesta – If you are joining one of our Philippines group tours we meet in Makati staying at the hugely popular Z hostel, and head to Barrio Fiesta on our first night. Barrio serves traditional Filipino food at its best. They do an awesome chicken adobo which is regarded as the national dish of the Philippines, so it's is a great way to get stuck into the local culture. Adobo, often served with pork or chicken is slow cooked, marinated in vinegar, soy sauce, garlic, and black peppercorns, which is browned in oil, and simmered in marinade. It is super rich and tasty and the meat is really tender. This is our first taste of local food and there is a huge variety including many noodle and vegetable dishes. Everything is served with rice, on a banana leaf and if we're really lucky the waiters sing and dance for us!
Bistro Remedios – Bistro Remedios, just outside the Makati district has a similar theme dedicated to Filipino food and culture. They have a selection of famous local dishes and talented service staff who are also guitarists and singers, so if the food doesn't impress you, the staff definitely will! The food in the Philippines is very meat oriented, but here you can try 'gising-gising' a spicy vegetable soup, or 'Kangkong' which is marinated water spinach, a favourite amongst vegetarians and vegans.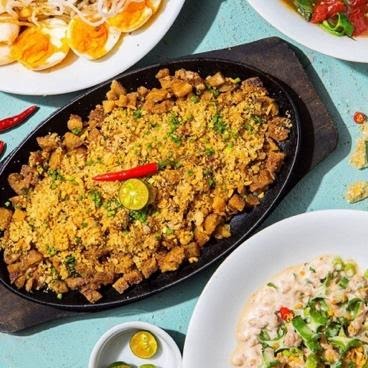 Best places to eat in BGC
Manam Comfort Food – Voted as serving the No1. Sisig in Manila by Spot Philippines, Manila's top online urban lifestyle publication. Sisig is a customary Filipino dish made from pigs face served on a sizzling hot plate and is a must when wanting to try traditional Filipino food . The bold smoky flavours with the spiciness of the sauce combined with both crispy and tender meat is described as like nothing you will find in other cuisines. Manam not only serves sisig, they have a real variety of Filipino cuisine that is sensibly priced with main dishes costing around 130 pesos (around $3.80AUD). If you are looking to dive into local food and culture Manam is the place to be.
Martin Place Social – If you are just arriving in the Philippines and don't feel quite ready to dive into local food yet, Martin Place Social brings the holistic Australian dining experience to BGC. This is a modern Australian dining restaurant with fresh Filipino produce and sharing plates suitable for family and friends, sounding like the perfect mix of western and Filipino? We thought so!
Port Barton
Port Barton is a small fishing village that is hugely popular with tourists. The crystal clear water, white sandy beaches and days spent turtle spotting make it hard to pass up on. Due to its popularity with tourists the restaurants tend to cater more to western tastes but there is still plenty to be enjoyed, and if you haven't fallen in love with the food in the Philippines yet I'm sure this will be music to your ears.
Best places to eat in Port Barton
Gorgonzola – Gorgonzola is a must in Port Barton, it is a vegetarian restaurant but its that good you won't be missing your meat. I know I'm up against it as a veggie telling you this but the reviews speak for themselves, and with a huge outdoor wood-fired pizza oven, homemade pasta and heaps of small Mediterranean plates you won't regret visiting Gorgonzola. They also do eco friendly takeaway boxes because I can guarantee you won't be able to settle on just one thing.
Reef Café – If you're not convinced by my glowing appraisal of a vegetarian-only Italian restaurant, head to Reef Café. Reef Café does some of the best burgers in Palawan, so if you're fancying a break from Asian cuisine this spot needs to be on your list. They do awesome banana blossom patty burgers for vegetarians / vegans which is worth a try as it's not often you come across banana blossom options in western cuisine. On top of the great food they also have live music in the evening, what better way to relax after a day at the beach.
El Nido
El Nido, like Port Barton, is on every tourists list. With 45 islands located in the Bacuit Bay area, El Nido has gained a massive worldwide reputation for its stunning white beaches, towering limestone cliffs, scenic mountains, enchanting lagoons and rich coral gardens. So with thousands of tourists flocking here each year you can guarantee you will get your foodie fix here whether it be Filipino food, Italian, Mexican, Greek.. You name it, you can find it in El Nido.
Best places to eat in El Nido
Boodle Fight restaurant bar – If you are looking for an authentic Filipino Food experience look no further. Boodle Fight resto bar serves a variety of fresh catch seafood to share on a banana leaf that can be enjoyed while sitting on the beach watching the sunset. These huge platters are so colourful and this is a great opportunity to try a few different dishes if you haven't already. This place gets excellent online reviews for food and everything about it is authentically Filipino even the service, but these Boodle Fights are well worth the wait..
Frendz Hostel – If you've already had your Filipino food fix and you're ready for a few rice free days Frendz Hostel has the most diverse menu I've seen in the Philippines to date. They do everything from local Filipino, Mexican, Italian and more and they do all it really well. Frendz Hostel is also worth a visit for breakfast. They have coffee that rivals Starbucks, pancakes, smoothie bowls and the menu is as long as your arm.
Trattoria Altrove– Trattoria Altrove is a fantastic Italian restaurant in El Nido. Their pasta dishes and wood fired pizza are the best I've had in the world and I've been lucky enough to visit Italy, so yes the food really is amazing! They have a couple of restaurants dotted around El Nido so you're sure to come across one. As a bonus they offer heaps of vegetarian options and have pretty decent wine, which is not something you'll come across often in South East Asia.
Cebu
Cebu, like Manila is one of the major business centers in the Philippines, acting as an industrial, trade, commercial and education hub. However Cebu and its locals have much more of a laid-back feel relaxing in a city rich in history, and vibrant culture. When it comes to food Cebu is most famous for its Lechon (an entire spit roasted pig) and mangos, they enjoy eating the traditional way with large groups of people and families gathering together to enjoy a meal, which is just as well if they have an entire pig to get through!
Best Places to eat in Cebu
House of Lechon – When eating Filipino food in Cebu you have to try House of Lechon. Here you can observe the meat being prepared. It is ordered by the kg, with normal or spicy options and if you really want to eat Filipino style you'll need a side of garlic rice. The crispy skin of the pork combined with the meat is what makes lechon so infamous. If you're not into meat they do the most fantastic 'monggos' which is more commonly known as lentils and their noodles. They also have a great selection of Filipino desserts, 'Halo Halo' and a 'Mango Float'.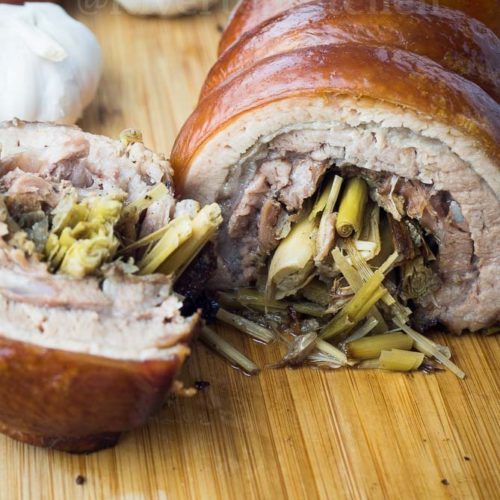 STK Ta Bay – Translated from Bisaya 'S' stands for Sugba meaning grill, 'T' for Tula which is soup and 'K' Kilaw which is ceviche. Bisaya also known as Cebuano is the language spoken in Cebu and although the national language of the Philippines is Tagalog there are over 75 different dialects spoken confusing right? Let's stick to food! STK Ta Bay serves every type of Filipino food you could imagine, from fresh seafood, BBQ meat dishes and of course your lechon and sisig. If you are looking for the traditional Filipino experience and enjoy seafood this is a must in your Cebu itinerary.
Siargao
Siargao is a teardrop shaped island in the southern part of the Philippines. It is popularly known as the 'surfing capital of the Philippines' and has seen a 30% growth in tourism in just the last year. Siargao is the ideal place for those who like pristine beaches, getting tanned and simply hanging around the most beautiful, postcard perfect spots the Philippines has to offer. Due to the amount of tourists Siargao attracts many of the restaurants are heavily westernised but that's not to say they aren't brilliant.
If you're a foodie joining one of our Philippines group tours this is guaranteed to be one of your highlights, with past travellers often joking that this part of the tour is basically a 'food tour'.

Best places to eat in Siargao
White banana beach club – White banana beach club, is one of our top picks for food and sunset cocktails, they have more cocktails on the menu than you could sample in a week and their menu is super varied and very vegetarian/vegan friendly. Although traditional Filipino food isn't their thing, it's definitely worth checking out. Their dishes are cleverly put together with names like 'vegan chicken adobo'. Their meat substitutes are so good that you may not even notice, it took me over 4 visits to work this out, but the cocktails may have had something to do with that! They also have live acoustic sets and a super chilled vibe. We've even missed our dinner reservation a few times because it's so hard to leave.
Bravo Beach Club – Next on the list is Bravo beach club. Another spot in Siargao with a super chill vibe with a bonus swimming pool and beach access. The menu is ever changing, with tapas for lunch and a different menu for the evening. They have everything from western, Filipino, small bites and bar food which are all perfect for soaking up excess alcohol, which is a must considering their house cocktail is only 75 pesos ($2) and they don't frown at you if you order it for breakfast, they're my kinda people.
Shaka – Not only does Shaka do the most delicious smoothie bowls and healthy eats, the location is picture perfect! They're situated at cloud 9, the most popular surfing spot on the island, with a spectacular view of the famous Cloud 9 boardwalk. Smoothies and coffee can be enjoyed in their outdoor seating area or on a swing facing the beach, making Shaka the perfect spot to get your energy levels back up post surf.
Mama's Grill Siargao – Is a locally owned and run Filipin BBQ restaurant that get's packed night after night. They serve everything from pork chops, chicken, local sausages, veggie sticks and tuna fillets grilled with either sweet or spicy sauce and eaten over a plate of rice. This is a fantastic way to experience local food cooked the traditional way right in front of you. It is also really nice to see a local restaurant doing so well amongst the much bigger foreign owned resorts and eateries, so head to Mama's Grill and show your support.
Food in the Philippines FAQ's
What are the most common traditional Filipino dishes?

The most common Filipino dishes are:
1. Adobo
2. Lumpia
3. Inasal
4. Pancit
5. Sinigang
6. Cassava Cake
7. Arroz Caldo
8. Chicharon
9. Lechon
10. Kinilaw

How much is food in the Philippines?

The cost of food in the Philippines varies greatly depending where you are and the type of food you are looking for. Eating local dishes is always the cheaper option and you can get a local meal for as little as 100 pesos (around $2.50 AUD). If you are getting a western meal you can usually expect to pay around 300 – 500 pesos ($8 – $14 AUD)
So there you have it! We hope this article has given you plenty to get excited about, and has armed you with enough knowledge that you can now go and eat your way through the Philippines!
Don't forget if you are planning to travel to the Philippines, Do You Travel offers both group tours and customised itineraries. Check out all of our Philippines holiday packages, we have something for everyone. Download our latest brochure, follow us on social media and reach out with any questions you may have.
We would love to hear from you and hope to see you in the Philippines in the not so distant future.
Alyssa & The Do You Travel Crew x