How to plan the Perfect Palawan Holiday
This article is written by Do You Travel, Tour operator specialising in creating once in a lifetime Philippines Group Tours and holidays! – Updated March 2021
Named the world's "best island in the world" three years in a row by Travel & Leisure magazine, this thin, long island in the Philippines feels like paradise from end to end. With gorgeous limestone cliffs, turquoise waters, lagoons, beach parties and sunsets to die for, this tiny little island has it all!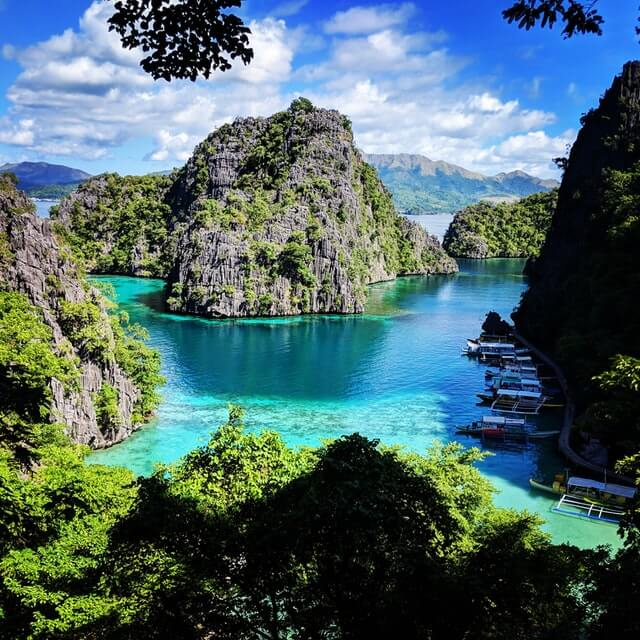 If you have come across this article, then my guess is that I don't need to convince you to pack your bikini and tanning lotion, you have already made up your mind about that, rather you are probably wondering things like how do I get to Palawan, what do I do when I get there, what are the best beaches to visit and how much spending money do I need? If that's you, then you have come to the right place.
Being a tour leader for Do You Travel, a tour operator specialising in Philippines tours, means that I literally travel around Palawan and the Philippines for a living, so I am pretty well qualified to give advice on this topic!
You are in good hands, so grab yourself a drink, sit back and relax while I take you on a journey through the most beautiful island in the world, Palawan, Philippines.
How to get to Palawan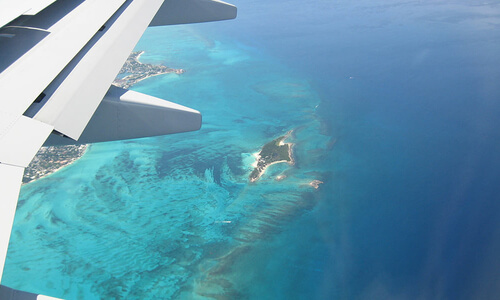 First things first… "How on earth do you get to this magical Palawan island?" Booking flights from wherever you are to Palawan in one go is not only going to be expensive, but quite exhausting. If you are anything like me, you love to travel, but you hate airports, so I highly recommend getting a flight to Manila and spending a day or two exploring the capital city of the Philippines before heading to the beach.
Either way, once you are in Manila it's only a short flight to the city of Puerto Princesa, Palawan! There are 3 main Airlines that serve the Philippines, Air Asia, Cebu Pacific and Philippine Airlines. I recommend jumping on Skyscanner and finding the cheapest ticket from MNL > PPS.
How to get around Palawan
Once you're in Palawan, it's pretty easy to get around, but you will need to have some patience. The Filipino culture is extremely laid back, so if a driver says he will be there to pick you up at 11 am, don't be too surprised or stressed out if he doesn't arrive on time..
Below is a guide to how long places in Palawan take to get to:
Puerto Princesa to Sabang: Once you arrive at the airport, you can get a private or shared van to Sabang, the ride will take just under 1 hour.
Puerto Princesa / Sabang to El Nido: If you want to scrap Port Barton, you can head straight to El Nido and get there in around 5-6 hours.
Puerto Princesa / Sabang to Port Barton: You can get a shared shuttle van from Puerto Princesa to Port Barton in 3-4 hours. Or grab a tricycle to the Puerto Princesa bus terminal, then find the van going to Sabang (we use the Lexxus van company).
Port Barton to El Nido: You can get to El Nido from Port Barton in 4-5 hours. Times are slightly faster (and the trip more comfortable) if you fork out for a private van transfer.
To Coron: To get to Coron, either take a short flight from Puerto Princesa (1h 20m) or a ferry from El Nido (around 3.5 hours).
Around town: Local transport around the towns is the tricycle, similar to Thailand and Bali's tuk-tuk. Tricycles are cheap, easy and convenient but not the best for long trips as they're really not made for comfort and the roads around Palawan can get very bumpy.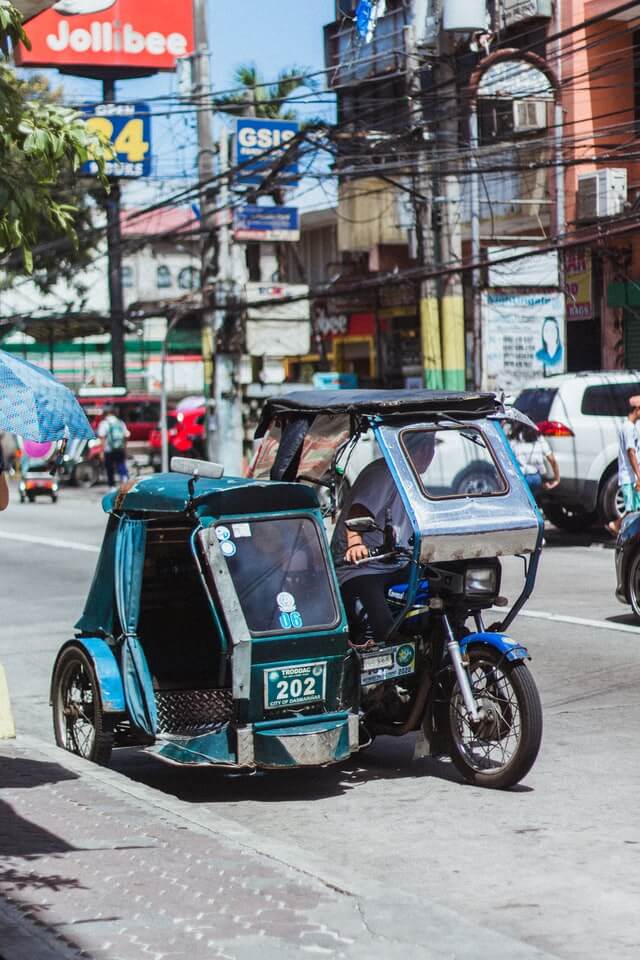 Budget For Palawan
The Philippines in general is fairly cheap, however is also a little more expensive than most other Southeast Asian countries.
Food is cheap, and so are the drinks! Check out our Ultimate Guide to Food in the Philippines and nightlife in the Philippines blogs for the full lowdown on where to eat and drink in the Philippines.
Vans, boats and flights between areas are also pretty reasonably priced, as well as accommodation and tours.
Your budget will really depend on the kind of holiday you are looking for, but below is a rough guide to what you would need/want to have on you for spending money (not including flights and accommodation)
Budget – $15 AUD a day
Mid Range – $35AUD a day
High Range – $60 AUD + a day
Where To Stay In Palawan
On tour, we love to mix it up and get a taste of all that's on offer! The accommodation we stay at varies from hostels to hotels, to camping on the beach and glamping huts under the stars!
I've listed down all of my favourite spots in Palawan, as well as some luxury resorts in El Nido in case you're wanting to splash out a bit on your Palawan Holiday!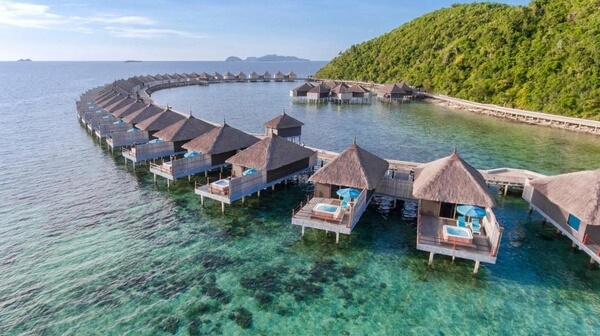 Where to stay in Puerto Princesa City
Where to stay in Sabang
Where to stay in Port Barton
Budget – El Dorado Sunset Resort
Mid Range – Gilligans Port Barton, Rubin Resort
Where to stay in El Nido
Peaceful El Nido town is full of beachfront resorts, ranging from the most expensive in the country to cheap hostels and bungalows.
Budget – Frendz Hostel
Mid Range – Sea cocoon
High Range – Miniloc Resort
Where to stay in Coron
Coron is a laid back town in the undeveloped island of Busuanga. There are no luxury hotels in town, no fast food joints and no fancy restaurants either
When is the best time to travel to Palawan
The best time to go to Palawan is during the dry season which is November through to May. The warmest months are from March to April which is considered the summer season in the Philippines. However, this is also the peak season since most locals prefer to go to islands and beaches during this time. At Do You Travel, we book tours for our guests at least a month in advance to be sure, so if you are not travelling with us, I highly recommend booking ahead.
Palawan Itinerary
Now the moment you've been waiting for, this Palawan itinerary has you covered with the best route to take on your Palawan holiday and all the best things to do and see on the way. Ready to jump in? Let's go!
Day 1 – Arrive in Puerto Princesa
Once you arrive in Puerto Princesa, you have two equally good choices (although I recommend you make this choice prior to getting on the plane). Find a van and driver at the airport (they are everywhere, I promise) and ask them to take you to your hotel (the one you booked before you got on the plane) in Puerto Princesa City, or Sabang. I personally like Sabang for two reasons 1. It's beachfront and 2. You are nice and close to the first attraction you are going to want to visit on your Palawan holiday, the Underground River.
If you took my advice and ended up in Sabang today, after you've settled into your room and texted your mum that you made it in one piece, head down or up the beach. Sabang is a quiet fishing village, so there is not really that much to do, but the beaches here are stunning and will give you a little taste of what's to come. The beach is lined with some hotels, small local stores and a few beachfront bars and restaurants. I highly recommend getting dinner at the Sheridan Resort so you can sit back and take in the sounds of the waves, the live music and watch the fire dancers!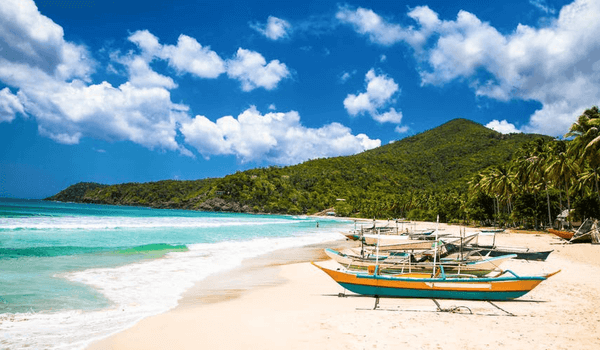 Day 2 – Visit the Underground river
The Puerto Princesa underground river is not only a UNESCO World Heritage Site and one of the New 7 Wonders of Nature, it's the world's longest navigable underground river and makes for an exciting experience in one of the Philippines' most popular islands.
You'll need to conquer your fears of small, dark spaces (if you have them) however you'll be treated to the rare sights of waterfalls gushing through the cave walls, a unique 20 million-year-old fossil of a sirenia or manatee, and a tiny rock passage that leads into a vast room, carpeted from floor to ceiling in glimmering crystals.
Once back on dry land, you again have two choices, jump in a van and head to Port Barton, or enjoy another night in sleepy Sabang and take a morning trip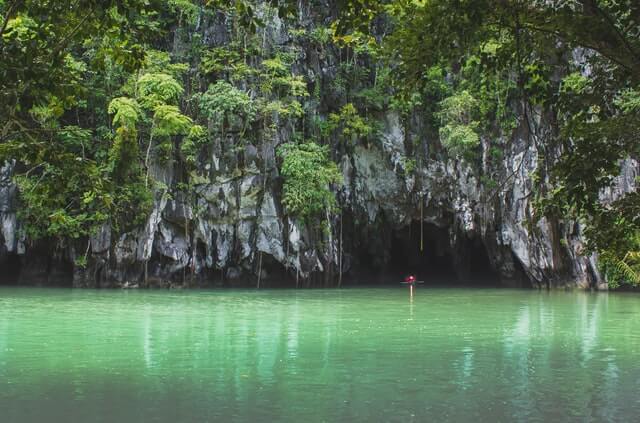 Day 3 – Port Barton
Port Barton doesn't usually make it onto many people's Palawan itinerary, but it really should. Port Barton showcases long stretches of empty beach, an endless trail of palm trees, fiery sunsets and secluded islands that are just waiting to be explored. There are plenty of accommodation options to choose from in Port Barton, but I highly recommend Gilligans Beach House. We stay here on tour and you can either pitch a tent right on the sand or stay inside the beach house. You'll need to pre-plan this one as you have to get a boat over, but the beach house staff can organise it for you so it's waiting when you arrive in town.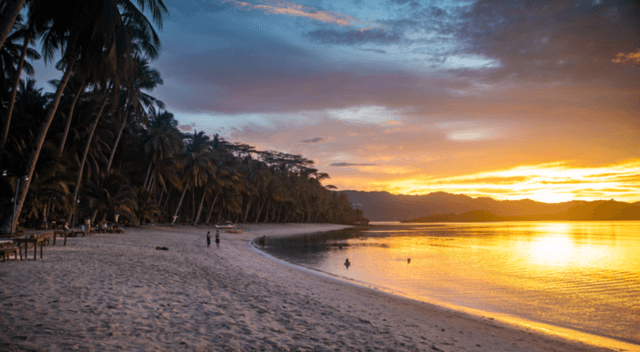 Day 4 – Port Barton
Today you are either going to want to spend your day sipping on fresh coconuts, listening to reggae tunes as you start to adjust to island life, or, if you are up for some exploring, join in on an island-hopping trip and spend the day chasing sea turtles and exploring the various islands surrounding Port Barton. Coconutz Island hopping tour in Port Barton is great!
For dinner tonight I recommend Reef Cafe. They do some of the best burgers in Palawan, so if you're fancying a break from Asian cuisine this spot needs to be on your list.
Day 5 – El Nido
Today you'll head to the real jewel of Palawan, El Nido, and despite the lengths it took to get here, you'll quickly be assured upon arrival that it's all very much worth it. To get to El Nido from Port Barton head to the Port Barton Bus Terminus and board a van heading to El Nido. Vans depart the terminal at 8:00, 13:00 and 17:00, and they charge at least 610 PHP ($12) per person. Once you have arrived in El Nido and settled in, jump in a tricycle and head to Panorama Resort Beach for an amazing feed and sunset views to die for!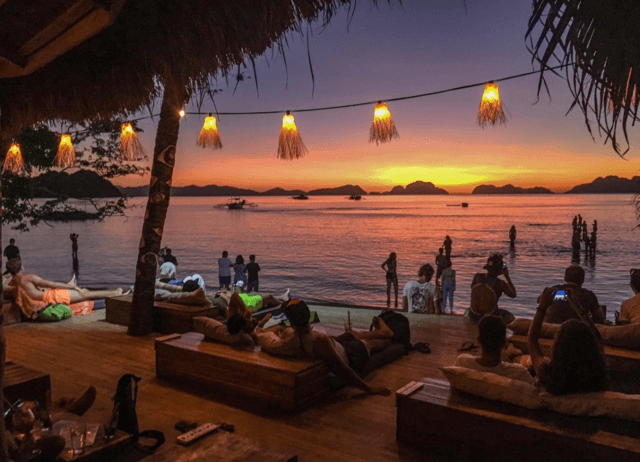 Day 6 – El Nido Island Hopping
A trip to El Nido just wouldn't be complete without an Island Hopping day tour. This is the most popular thing to do in El Nido and you will soon see why.
You may be a little overwhelmed with choices when you see all the different island hopping tours, but don't fret. The tours are organised into 4 different itineraries A, B, C, & D (Super creative, I know). Generally, Tour A is known for lagoons and beaches, B for caves and islands, C for great snorkeling and a shrine, and D somewhere in between, featuring island beaches.
Tour A is the most popular and you really cannot go wrong. If you have more time in El Nido I would recommend doing both Tour A and B.
Hot Tip – If you happen to have a couple of days to spare, I highly recommend joining in a 3 or 4-day island-hopping expedition from El Nido to Coron. This is one of my favourite parts of our tours! You'll get as close as you could ever get to a true Robinson Crusoe experience! On tour, we camp out in tents on the beach, enjoy Filipino BBQ feasts on board and get to discover all of the Islands between El Nido and Coron, including Linapacan, which has been voted the clearest water in the world.
Day 7 – Nacpan beach
Nacpan Beach is another one of my favourite places in Palawan. You can spend an entire day here relaxing on the beach with a cocktail (now who doesn't love doing that?) If you're up for a bit more excitement, check out the Gardens Day Club, they have a huge water slide that launches you in the air, great drinks, great food and a DJ, what more can you possibly ask for?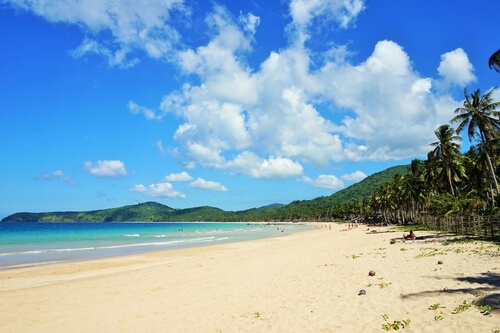 Day 8 – Coron
Just a 3 hour ferry ride from El Nido lies the town of Coron, which is located on the largest island in the archipelago, Busuanga Island. Many people are confused with Coron town as there is also a Coron Island, a stunning undeveloped island which most Coron day trips visit. There are two ferry companies that run an El Nido to Coron ferry each once a day. The ferry only takes 4 hours and is one of the fastest ways to travel to Coron. The ferry sells out days in advance so make sure you book ahead, tickets are around 1,760 pesos/$35 AUD
Day 9 – Coron
Another day of island hopping. This breathtaking maze of deep blue water in Coron winds around the tall limestone cliffs and will have you pinching yourself to check that you aren't dreaming! It's absolutely stunning!
You can sign up for Island Tours that take you through Coron Bay while stopping at secret inlets, guiding you to the best swim spots, and visiting viewpoints that give you full perspective of the bay.
Day 10 – Flight back to Manila
From Coron town, it's a short van ride to the airport to get your flight back to Manila.
I wouldn't recommend spending any less than 10 days travelling Palawan as there is just so much to see and do, but I have included all of the absolute musts in my list above to ensure you get the very best out of your Palawan holiday, even if you are short on time!
If you want more inspiration for your Palawan trip, download our complete Philippines Travel Guide, or head to our website and check out all of the Philippines tours and packages we offer. Warning: you might end up booking a flight!
Want to read more content like this?
Sign up to receive our free Philippines Travel Guides to get a local insight into this amazing destination before you visit