Joining one of our Philippines group tours and unsure what to pack? Check out our handy Philippines packing list and guide that will cover everything from underwear to the kitchen sink!

Given the current situation with world travel, you may be thinking "Why bother?" But actually now is the perfect time to pack, plan, prioritise and purchase ready for your next big adventure! What better time to have a dry run packing your backpack when you're confined to home due to coronavirus. Time to kill at home? We've got you covered!

Firstly, your Philippines packing list will depend on the length of time you plan to be away, what adventures you have planned, and the ever-unpredictable weather. In this instance, we will be covering travel to SouthEast Asia, specifically The Philippines, during the summer season when most of our Philippines tours take place. Obviously, if you're heading to France to go skiing, please do not pack mostly swimwear. There's the disclaimer; you have been warned!

Use a Backpack when Travelling to the Philippines
The first big decision is the bag itself; I always recommend a backpack over a suitcase for any backpacking or adventure tour as these are much easier to move around on uneven ground and when getting from place to place. Although a suitcase will provide much amusement to fellow travelers watching you drag 30kg of Juicy Couture with gold wheels down the beach, true story. Of course, we helped, but needless to say, it went home a few wheels less than it arrived with.

So, if you are looking at backpacks, the biggest decider here is carry on or checked baggage? If you're joining a group tour with DYT, you'll get 20kg checked baggage allowance per person, that's a lot of swimwear and shades, but if you plan to travel independently after your tour, the huge advantage of having a small bag is that you won't be paying for a checked bag on the small domestic flights throughout Asia and this will force you to pack light!

A good example of a backpack that is carry on dimensions is the Osprey Farpoint 40, you can check it out on their website: https://www.osprey.com and I would suggest scouting eBay or similar sites where you can pick them up for half the price from all those wannabe travelers who have only let it see the light of Costa Del Wardrobe. I've personally used this bag for the sole purpose of keeping costs down and not paying for checked baggage when I'm off tour (as I'm sure you know I'm a guide for DYT and I'm always on the move). So I guess it comes down very much to personal preference, and being honest with myself, I'm cheap, but I am also that person that buys everyone shots all night and spends 200 pesos on extra parmesan (that's the cost of a whole meal in the Philippines), go figure.
Obviously, the huge downside to traveling with only carry-on baggage is liquids. This can be okay through some domestic airports but it's really not worth taking the chance, I have mourned the loss of many conditioners through airport security. I also always advise people joining our Philippines tours to pre-purchase sunscreen and mosquito repellent as these can be expensive to buy on arrival as they are mostly imported, plus there's always the supply to demand price increase in touristy areas too, but here I am again complaining about buying 'the essentials' so I can splash out on Jager – shame on me.

As tempting as it is to just keep adding more things, getting a smaller bag will help with this and force you to pack light, it's useful to ask yourself, "am I really going to use this?"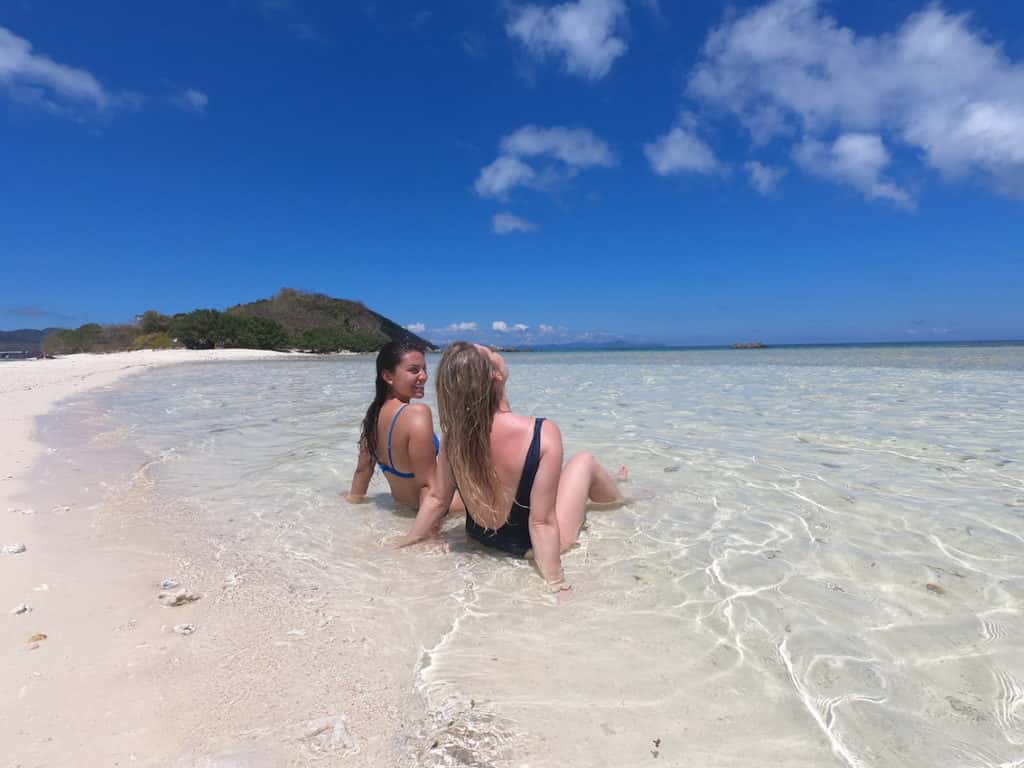 Four Top Tips for packing light when visiting the Philippines
Bring versatile things as opposed to things that are exclusively for one time use. I say this but I understand some things are strictly 'one-time use essentials' (I won't expand on this). If you are joining a group tour, take advantage of social media and chat with your new buddies in the pre-tour groups and see if someone else is bringing the same thing, but please remember some things are not to be shared.
Pack the must-haves, not the I'd-like-to-haves. Packing a week's worth of clothes is more than enough as there is always a chance to do laundry. If you're travelling with DYT, your tour guide will be more than happy to point you in the direction of the laundry and see you in fresh clothes. Try to pick items that'll match easily with anything, but backpacking has a whole sense of style in itself: the less it matches the better it looks! See our Instagram highlights for inspiration.
Two or three pairs of shoes is plenty, flip flops, shoes that are comfortable to walk in and a pair to go out in tick all the boxes. If you're coming on a longer 16-day Philippines tour with us we spend up to 6 days exploring crystal clear waters and empty beaches where you'll only have sand on your feet.
Replacing large liquids like shampoo and conditioner with more eco-friendly options like shampoo bars are a great idea. These can be used for up to 3 months, they are lighter, reduce plastic waste and do not count as liquid in your carry-on baggage, win-win.
Don't forget though this is massively down to personal preference. If you know by day five you're going to lose your sh*t without your electric toothbrush, please bring it, – no one wants to see that, least of all me (also referencing point one, the essential non-sharing item)! So whether you're a 'pack enough underwear that you could wet yourself 3 times a day for 2 weeks' or a 'who needs underwear I'll be in swimwear the whole time' kind of individual then go for it, you do you!

One essential item to add to your Philippines packing list is a reusable water bottle; staying hydrated in a hot country is essential and all of our accommodations provide free filtered refills. They are also more than happy to clean/sterilise our bottles. It's not much to pack but if you consider the plastic you will save during your trip, you'll be making a huge difference, and less money on water = more money on beer!!

Believe it or not, some people bring clothes backpacking they would not be seen dead in at home, so after your travels, if you do want to leave anything behind, donating clothes to local families is always appreciated. If you are coming with us to the Philippines, you'll see just how hard they work to not throw anything away so let's do what we can to support this. This is one of the many things I love about the Philippines and will be super excited to share with you.
Most importantly, remember this is your trip. You've worked hard for this, so have fun! The team at DYT and your new DYT fam are always on hand to help before and throughout your trip no matter how big or small so panic not.
Philippines Packing List
Passport
Travel Insurance – Check out Nomads Travel
Cash / Card
Mobile and charger
Camera / SD and charger
Mosquito repellent
Sunscreen
Universal plug / adaptor
Swim wear
Beach towel
Thongs / Flip fops
Walking Shoes
Underwear
Singlets
Shorts
Medication
A good book / kindle
Small backpack for day trips
Reusable water bottle
Coin purse
Ladies Only – Tampons (They are crazy hard to find anywhere in the Philippines)
So there you have it! Hopefully this guide and Philippines packing list has given you some inspiration and a better idea of the things that you will need (and won't need) to bring on your Philippines trip!
If you are wanting to find out more about how your packing behaviours can help you to become a more eco friendly traveller – Check out our Top 10 Tips for Eco Friendly Travel!
Hit us up on social media for more info on Philippines travel and our amazing tours, there are also some amazing reviews from previous travellers (I'm the funny one :D)
Hopefully, see you soon x
Alyssa, DYT